I got my hornet for christmas and loved the semi auto capabilities and the fact that it was air powered, after playing around with it i descided to mod it to its best potential. I bought PETG off informer recently and used that for the barrels here is the mod.
1.
First step is to hacksaw off the barrels due to them beeing glued in :evil:. I opened the gun for this bit to get better access to the barrels. here are some pics of how it should look after (the 2 bottom barrels are finished, will explain how in next few steps.)
2.
now get out your dremel or if, like me, you dont own one the biggest drill bit you can find. once you hav your utencil in hand simple attack the inside of the barrel to get out AR's widen it for the PETG and so on. When you hit a white piece get rid of it but stop there no deeper. drill the barrels wider to fit the PETG. see pic above for a nice comparison between drilled and undrilled (bottom 2 are drilled out already)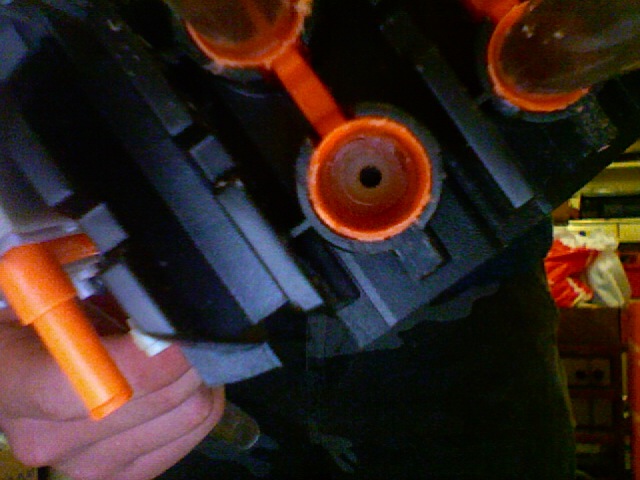 3.
once all that is gone and the barrels are wide enough stick your barrels in, not too sure of the best length yet i used 5 inches or aproximately 12cm. Glue isnt a necessity due to the tightness of the barrels but maybe use it anyway.
4.
finished product.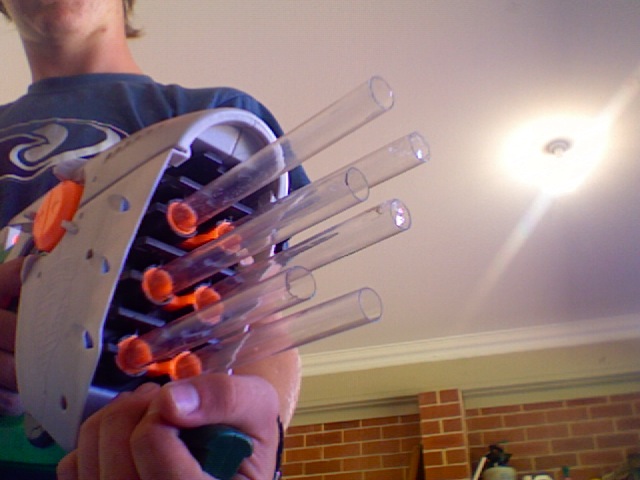 edit: If one or more of the barrels leak during the duration of the mod do not fret. This happened to me multiple times but when the barrels where in with loaded darts they fixed themselves. Dont ask me how
Last edited by WV17 on Sun Feb 28, 2010 3:18 am; edited 2 times in total