Hello there,
My name is Mitch(ell) AKA Son of Eevil. Relitevely new to nerfing brought my 1st gun (A Maverick) a week ago after deciding that they look like they might be interesting to paint and muck around with (wow was I right) took my a week cost me $100 in paints (Only needed to have spent $50...[You learn though right?])and it turned out like this: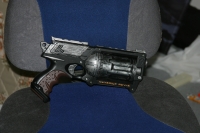 I then ordered myself a Longshot and after chasing my cats around for 5 minutes I pulled it apart and started painting and modding in between coats of primer. So far I've done the AR removal mod and am in the process of finding a suitable spring, I've contacted a spring making company and am triyng to find a good inner spring for the sled (wish me luck).
Also a little about me, I'm 20 I live in Newcastle, I'm a musician (Guitar, Drums, Vocals, you name it!), I'm a truck driver, I'm an EX-I.T student with a couple of Network Engineering certificated (making me the most qualified truck driver in Australia ). I'm also in the process of organising a Humans VS Zombies gathering in Newcastle. If your interested e-mail me at
sonofeevil@optusnet.com.au
and let me know that your interested so I can keep you up to date!
Pleased to meet you all!
Mitch