Always Annoyed that about Amazon not being able to ship to you, or the shipping costs were to high? Worry no more with Fishpond's, Amazon Price match!
**Disclaimer you will receive online credit for your next purchase on fishpond, not actually money back**
This is a Guide to show you how you can price match nerf guns from a site called
www.fishpond.com.au
to the prices of things on
www.Amazon.com
. This is a good way of getting the same prices from amazon yet you are getting free shipping! And this is proof that it doesn't only work for Books.
Working since 12/2/2011
Step 1)'Compare The Pair', Find the item you desire on Fishpond and look for that same item on Amazon. The item featured on Amazon has to be sold by Amazon and be eligible for free U.S shipping.
For this example I used a Tactical Vest. Notice that the seller is Amazon not fulfilled by Amazon
Step 2) 'Evaluating the Difference', If the item on fishpond is more expensive than Amazon's price, your desired item will be eligible for the price match.
I calculated that I would be eligible to receive $39.50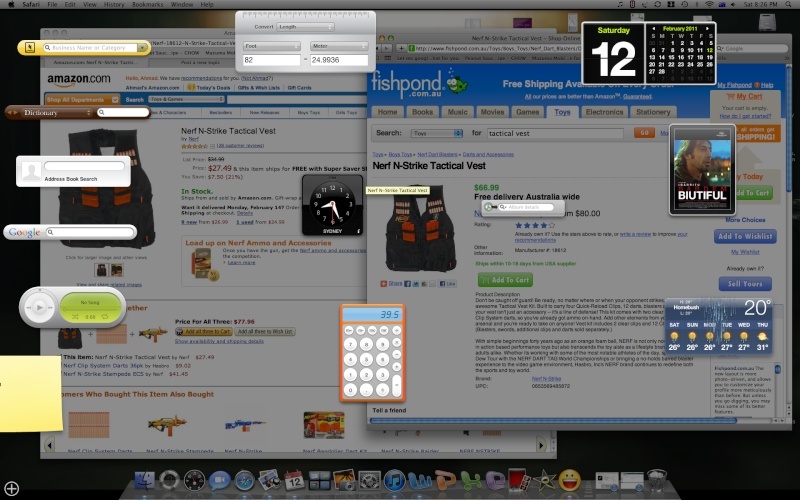 Step 3) 'Proceed with Checkout', Confident that you will receive some credit, proceed with fishpond checkout.
If you notice on the bottom right corner of oznerf.com was the date 12/2/2011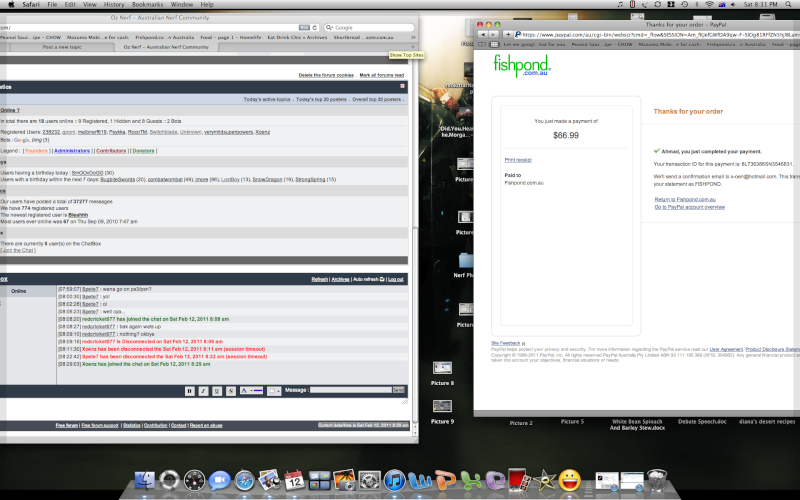 Step 4) 'Redemption' After purchasing your item go to
HERE
within 2 days and select the item you just purchased.
Step 5) 'Enjoy', FIshpond will automaticaly caculate how much
online
credit you will earn and will credit it to you fishpond account as soon as the item you ordered has been shipped (to avoid people from canceling their item and still getting credit)!]
** I don't know why it gave me $7 short in credit, perhaps Amazon discounts don't apply?**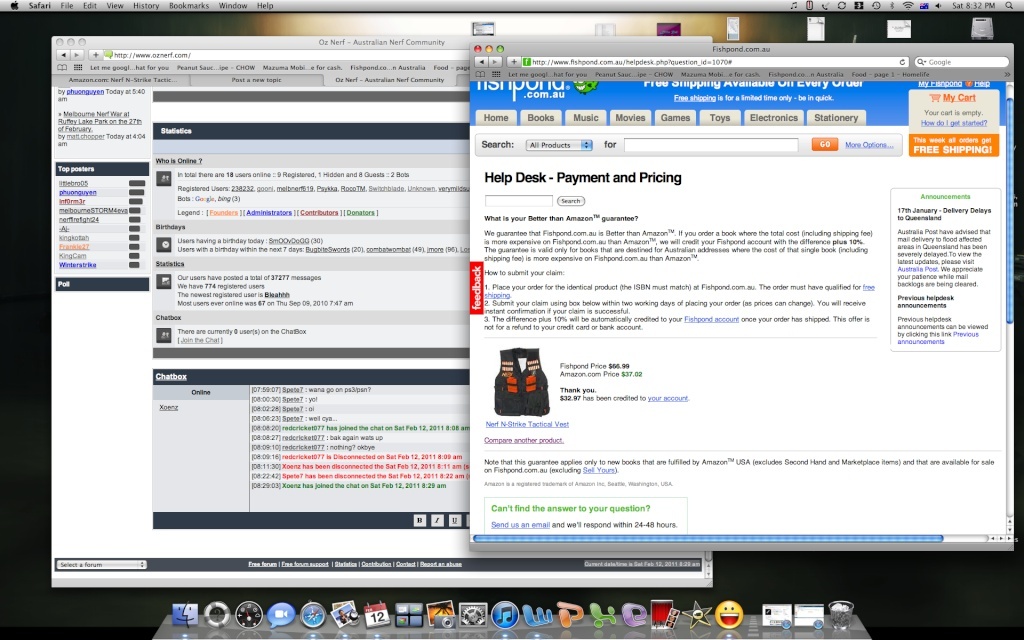 Tada! Any question, please do ask by posting, pm'ing or emailing.
Also Another Amazon Advantage!

Apparently
http://www.amazon.co.uk/
are having a limited time, free shipping to Australia for orders of more than £25! But wait there's more! Also subtract 1/6th of the price (17%) seeing that Australia does not issue taxes! This makes a Longstrike, with free shipping to AUstralia cost only $40!!
-Thanks Godspeed_22!
Godspeed_22 wrote:On the topic on Amazon, I'd like to add my guide on cheaper Nerf stuff. Amazon.co.uk is now offering free super saver shipping to Australia on orders over 25 pounds! Simply purchase a product/s over 25 pounds that are sold by Amazon and have super saver shipping, and it's free. On top of that, the EU VAT refund applies to orders shipping outside Europe, so if I'm correct that means you can subtract 1/6th of the price (I believe VAT tax in UK went up to 20% this year). Best product I see is the Longstrike which comes to approximately $40!
Last edited by Xoenz on Sat Feb 12, 2011 12:48 pm; edited 2 times in total