Before you throw away that crappy LSFG, there are a number of posts and guides from various forums that can put it into good use.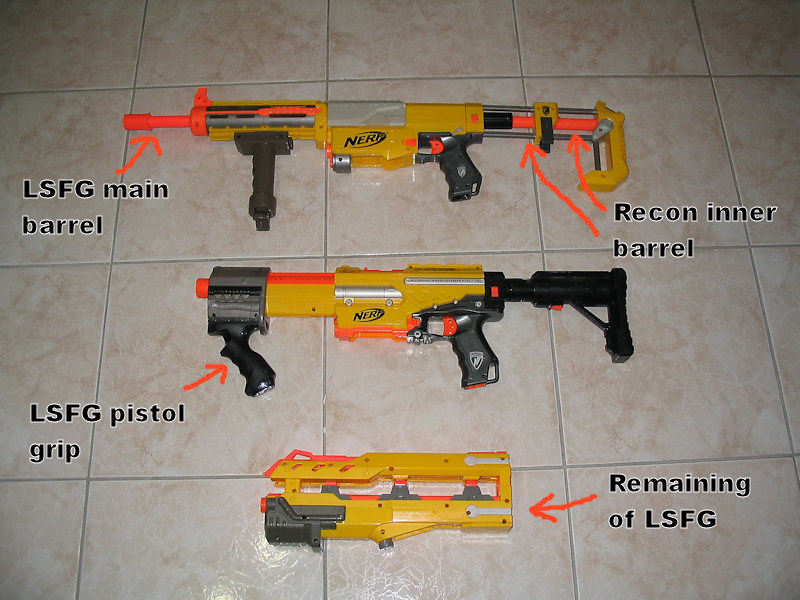 As you can see, I took the main barrel out from LSFG and transferred it into Recon barrel. The original inner barrel of Recon barrel is glued to a circular yellow bracket to hold it secured. I tried soaking it in a boiling water in the hope of softening the glue but it didn't work. So had to resort to my Dremel to cut the orange barrel off both sides of the yellow bracket. Then I used the Dremel to sand the inside of the bracket before I could remove the remaining orange barrel glued inside the bracket. Transferred this yellow bracket to the LSFG main barrel. I also noted the exit of the Recon barrel is slightly narrower, so the longer LSFG main barrel cannot extend out. Again with the trusty Dremel I sand the exit to widen it so LSFG main barrel can fit through.
With the cut two pieces of original Recon inner barrel, using Dremel to cut and shape both ends of the two pieces, and hot glue them to the Recon stock. What it does is it keeps the stock more rigid and less likely to flex.
I cut two tiny pieces of plastic sticking out on one end of the LSFG pistol grip with Dremel. Then sanded the bottom of AT's pump grip to make it flatter so the top of the LSFG pistol grip can glue to better surface. Aligned both the bottom of AT's pump grip and top of LSFG pistol grip as accurately as possible (otherwise the screws won't go into their respective holes). Glued them with 3-day epoxy glue. Updated: Tested the AT again yesterday and the LSFG pistol grip snapped off. Guessed the 3-day epoxy glue wasn't even strong enough to handle the stress. Fail. So had to retry by sanding off the glue, drilled a hole on each half of contact surfaces, put in a screw, as well as reapplied the epoxy glue again. Will test it again later this week once the glue is set. Updated 2: Battle-tested my AT in recent Sydney Nerf War, the LSFG pistol grip is glued with hot glue + 2 screws. It did not come off during the entire war. Success.
As for the remaining LSFG, it will be integrated into my Longshot main gun in the near future. Updated 2: LSFG integrated in my second Longshot, with pump handle connected to the priming bar. Painted in Alien Pulse Rifle colour scheme. Picture in the Picture thread.
Last edited by Akimbo Assassin on Sun Jun 05, 2011 4:13 am; edited 3 times in total