Ok so I was walking through Kmart and I saw this;
$8.95 for 100. I have recently purchased some foam from
inf0rm3r
so my head got ticking and I thought "alright"... so I grabbed this hand full of balls and brought them all the way home.
I sized up my tube and started putting the (kinda) sticky stuff on and then I placed the balls on the lip of each one. NOTE: I used the silicone filler stuff because that is all I had.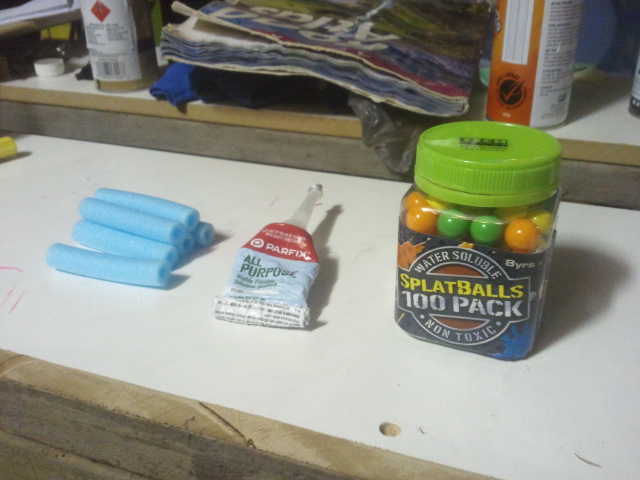 I've made 6 and am going to try them in a clip tomorrow once they are dry.
Even though they are expensive (I haven't done the math) I thought it would be interesting on how they will work (if they will work). I understand that they may stuff up my gun if it busts while in action but hey I'll just clean it up and wait for the next blow
Here are my poorly lit up, one time use, paintball foam darts.
ADDED:
Here are the results. Please ignore what I said before about only 1 gun bursting. I just looked at the vid again and saw that 2 stock guns burst the darts. Still surprising results though.
UPDATE: I will be attempting to make these balls firable with a regular nerf gun with as little modding as possible. I may have to invest in buying one of their blasters and seeing how it works and as a last resort i may work an integration. None the less. I will keep you posted about my balls and will post pics!
PS. All innuendo (no matter how poorly it was written) was on purpose for the funsies.
Last edited by sd_type on Wed Mar 30, 2011 3:16 am; edited 2 times in total (Reason for editing : Project Update)