Description:
Laser-cut LongShot boltsled reinforcement brackets
Manufacturer:
OzNerfNerd
Where to buy:
Ebay
Link:
http://myworld.ebay.com.au/oznerfnerd/
Price:
$5.60 AUD per set + $1 postage (combined shipping offered on multiple sets)
Payment:
PayPal and Bank Deposit
Ships to:
Australia, Singapore, Europe, Asia, United States, Canada, New Zealand
Hi, in conjunction with my LS tutorial, I'm going to review the laser-cut boltsled brackets that I'm currently using. This is a picture of the brackets: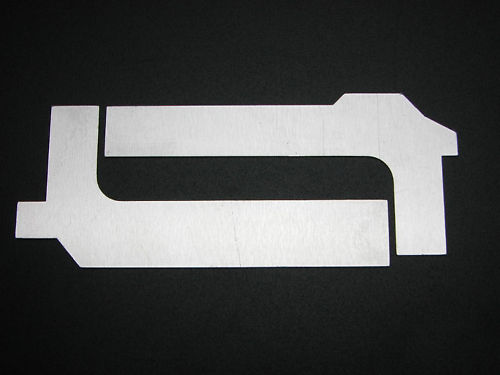 As you can see from the picture, there are two different brackets, perfectly shaped to fit the different sides of the boltsled. They are fabricated to a very high standard of quality, made from 0.6mm aluminium sheeting, and are quite strong. Because they are laser-cut, you don't need to do any sanding or filing - just use 3-day cure epoxy adhesive to attach them to the specific side of the bolt-sled.
When installed correctly, these brackets greatly increase the strength of the boltsled, and are a fraction of the price of a full aluminium boltsled. They have been designed to remove the need for some of the special tooling and materials that aren't readily available for young modders. This is similar method of reinforcement to Littlebro's aluminium lamination method, and may also be used in conjunction with TantumBull's coat-hanger procedure. While they are intended to prevent breakage, they may also be used to repair a broken boltsled - combined with coat-hanger reinforcement.
To install, first you must identify which bracket fits which side of the boltsled. Next, roughen the surface of the boltsled where the bracket will sit, with some sandpaper. Clean the surface of the boltsled and the bracket. Attach using your preferred choice of strong-bonding epoxy adhesive, and clamp in place. Wait for adhesive to cure, and repeat on the other side.
I used mini vise-grips to clamp the brackets in place, and glued the first bracket on at night. I was then able to remove the clamps, and attach the other side the next morning.
Personally, I've used a set of these in a heavily modded LS commission (with stock LS spring, and BT V2 spring) which has had approximately 1000 rounds fired, with no issues so far. My personal dealings with the seller have been nothing short of fantastic. Very prompt service, quick postage, fast replies to e-mails and very good after-sales support.
To summarise, the brackets are readily available, easy to purchase, and extremely cost-effective. No special tooling is required for installation, and they're ready to install straight out of the envelope.
Cheers,
(Photo's and technical data used with permission from owner)