Hi people,
My Speedload 6 (S6) arrived today, so once again, here's the review.
The S6 is a reverse-plunger blaster, with a 6-round permanently fixed magazine, which is the same system as the Q16. It requires to be cocked between each shot, and is rather similar in appearance to the Recon, but chunkier, and a bit heavier.
Once again the packaging was rather flashy, as you would expect being a new line of products.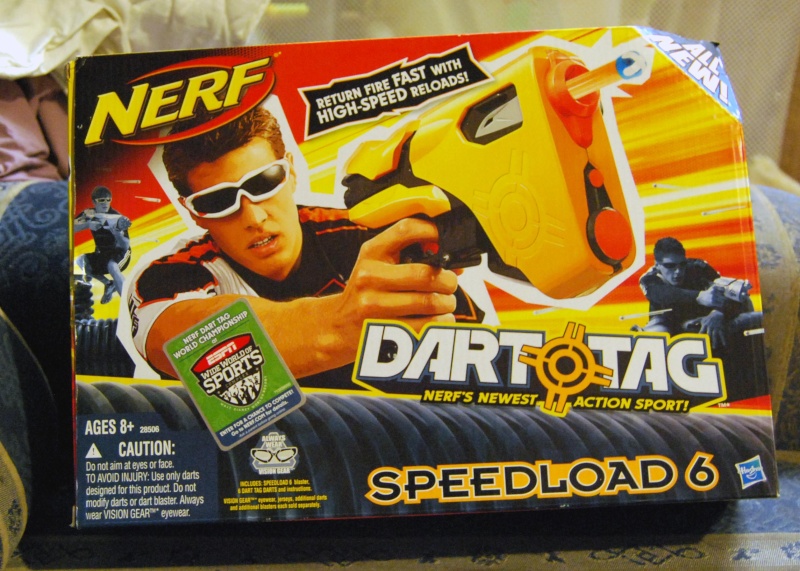 Out of the box, the S6 is surprisingly heavy, with most of tit's weight towards the front of the blaster.
Ergonomics are quite nice, although the balance of the weight is a bit far forward for my liking. The grip and cocking slide are quite chunky, which is rather nice to have something fit fairly decent for an adult.
This blaster won't accept any standard stocks, just like the Q16.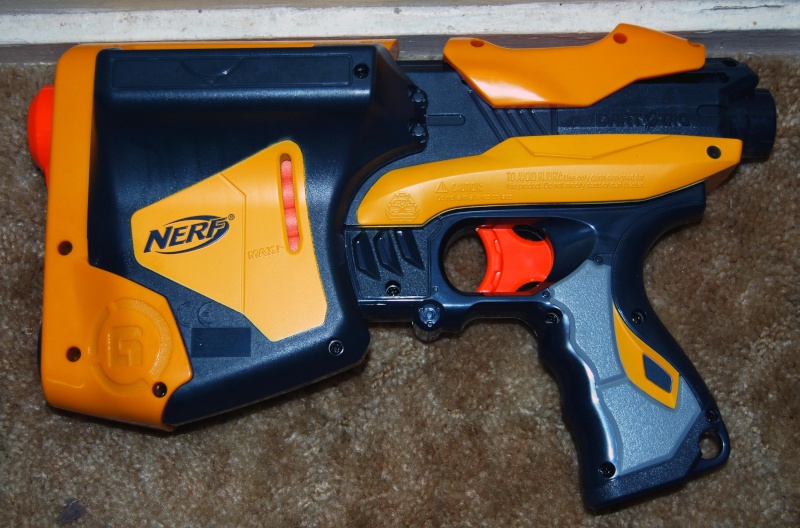 The "internal magazine" is rather functional, and quicker to load than a N-Strike clip. Obviously though, the lack of interchangeable magazines will probably prove to be an issue in a war scenario.
Range is limited to approximately:
35 feet flat
45 feet angled
I used stock tagger darts, so the results are quite good really.
Accuracy is fine, although difficult to judge with such small range. The darts do tend to drop quite suddenly after hitting approximately 30 feet.
ROF is dependant on the user, and the cocking slide mechanism is fairly good. Mine seems to be a little sticky, but it could just be limited to a small number/batch.
Also, I had half a dozen jammed darts in about 50 rounds, so I'm thinking maybe the unit I have is a Monday morning/Friday arvo edition.
I'm not one to rate blaster's, as there is too many inconsistencies with people's different opinions. But, in my opinion, this blaster would make a nice addition to any arsenal. I'd much prefer it to the Q16, and it is much better than a Recon.
To summarise:
•Reverse plunger blaster, so modifications and ranges will be limited
•Good ergonomic feel, although a little front-heavy.
•Unable to change magazines, but can be re-loaded at any stage, and loads quicker than N-Strike clips.
•Fairly decent range for stock blaster.
•Price is quite good: I paid $22 AUD for mine, shipped from fishpond.
Internal pictures are located here:
http://www.oznerf.com/t3124-internals-directory?highlight=internals+directory
Cheers,
Last edited by clunk07 on Mon May 23, 2011 7:34 pm; edited 1 time in total