I had read about Informer Range Effect on Length of Foam Post and keep wondering why the lighter dart traveled less further than a heavier one. So I conducted a test myself. I used those to do the test.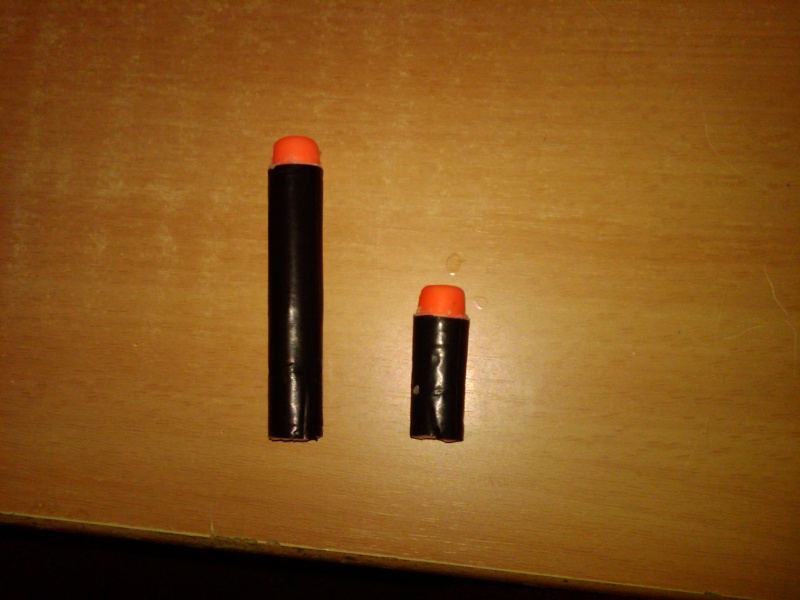 After the test, I got this comparision between original length streamline dart vs half length one:
Orginal
Power: Up
Speed: Slower
Range: Increased
Weight: Heavier
Reliability: Dependable
Shorter dart
Power: Down
Speed: Faster
Range: Decreased
Weight: Lighter
Reliability: Dependable
Each type has its own advantages and disadvantages.
With the Origanal dart, you get the range and power effective for mid-long range shots but slower speed which many players can see its coming and easily dogde (Except for point blank range). Dart's reliability also affect the its accuracy, I noticed that the older that travel less straight than the newer one (Of course) but the more straight they fly the better accuracy you get in my opinion.
With the Shorter dart, you get shorter range but higher speed effective for short-mid range shots. Recommeded for pistol use.
Besides, Indoor and Outdoor enviroment also affects dart's traveling distances and path. Wind is the worst enemy of dart (in my opinion-IMO). Depending on the direction and power of the wind, the travelling path of dart can be significantly changed especially lighter and shorter dart. Indoor war, shorter dart is a bit more advantage (IMO) due to its speed and wind effect-free factor.
Shorter dart also increases player's mobility but there's a problem with those darts if you wanna use them with clips. Jams happen quite offen (Still working on how to fix it)
After all, depending the enviroment, the battle field, tactic and weapons, choosing the appropriate type of dart could gain you a bit of advantage over you opponents.
I hope this is informative.
Cheers
Patrick