First off, this is an amalgamation of different 'dartsmithing' ideas - that thread by LittleTwigs, and advice in the splitting darts thread from different people (servulus and clunk off the top of my head)
Instead of continuously whining about my blue foam darts splitting up in the middle, I decided to do something about it. This is what I did, I call them 45mm sili tips.
As the name says, they're 45mm long (because I love metric)

I cut it to a length of 45mm, and then with the 'leftover' piece I decided to turn them into strips of foam.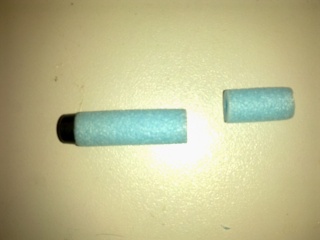 Then those strips, using that thing.. from inside a ballpen, were rammed into the tubular hole of the silicone tipped blue foam, were my fingertip is pointing. Now as to how much foam you put is a matter of discretion. Personally I like to keep it a bit dense so that it doesn't deform too much.


Now I tested it after this step, but the foam rammed in could, and would fly out during propulsion. Of course superglue is a no-no with foam so I decided to use hot glue instead. A tiny sufficient amount, enough to fill in the hole. I specifically use my hot glue in a low-temp, so I only do it in batches of seven, letting the hot glue cool down in between so that I'm not burning foam.

Apologies for the bad focusing.
========
I know this might not be your cup of tea. There are certain limitations for this one. First up you might not want the 45mm length of your darts. Secondly you might think it's too much weight for a dart and you lose range. But what I've done now is I have a vast selection of darts I can use depending on which blaster I feel like playing with.
Suggestions are very much welcome
EDIT: in terms of ranges.. I would say it's comparable to a 8g snap cap dart, just a bit better. Though as with amateur dart-smithing, it's always little things that make a difference between good, great and a lemon. I've had darts sail through 30 meters, but others fishtail at around at 24m mark
Last edited by 2120 on Mon Jul 18, 2011 10:31 am; edited 1 time in total