This is my first post so is apologize if I make any mistakes (I really hope I've got image uploading worked out properly), but here goes:
A few weeks ago I Built a homemade that i call the RSCB Bow, which is essentially a Bow (without a catch) that uses a RSCB with very little dead space.
When I built it I had intended to do a write-up, but unfortunately my SD card broke and I lost all pictures of the production phase, but ive decided its a nice enough blaster to deserve to be posted in the homemades thread anyway. Everything was mechanically fastened so i should be able to post pictures of most of the parts
I designed the bow on the concept that if I could create the RSCB set-up with minimal dead space, it would be an ideal Clip system because i would have to point the blaster down each time I begin to prime it which would feed darts without having to think about it.
I honestly don't know how original the blaster I built actually is, but I can honestly say that I built it completely from my own ideas in my own head and planned it from start to finish using my own thoughts and didn't copy any part of the bow from another home-made. However i do realize that it looks very similar to the Dracbow (fortunately, it fires better than the Dracbow).
This is the result: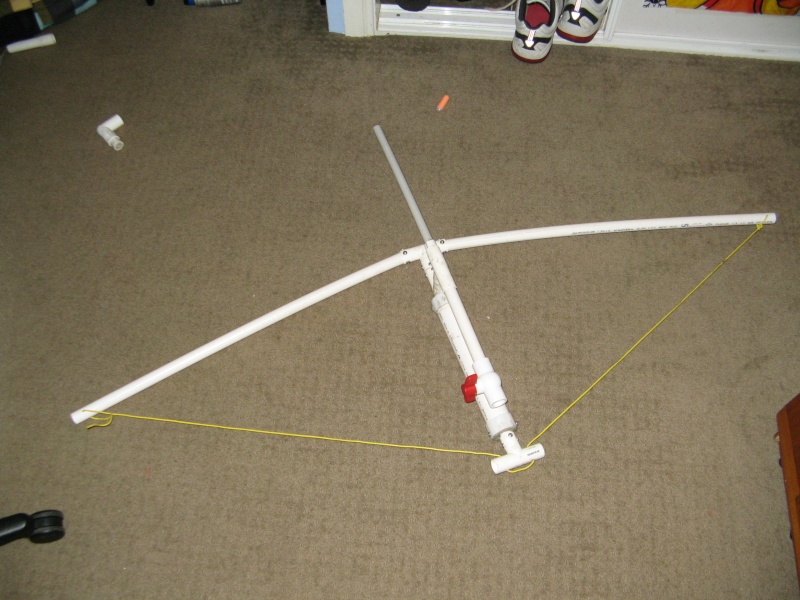 I used 40mm DWV PVC for the plunger tube with a 32mm plug for the plunger head, this creates an absolutely perfect seal.
The Bow arms are 15mm upvc, as are all of the tee's on the bow.
This picture gives a basic idea of how the bow arms are attached to the front of the blaster and how air flows up into the RSCB without spreading into the Front Tee and the bow arms.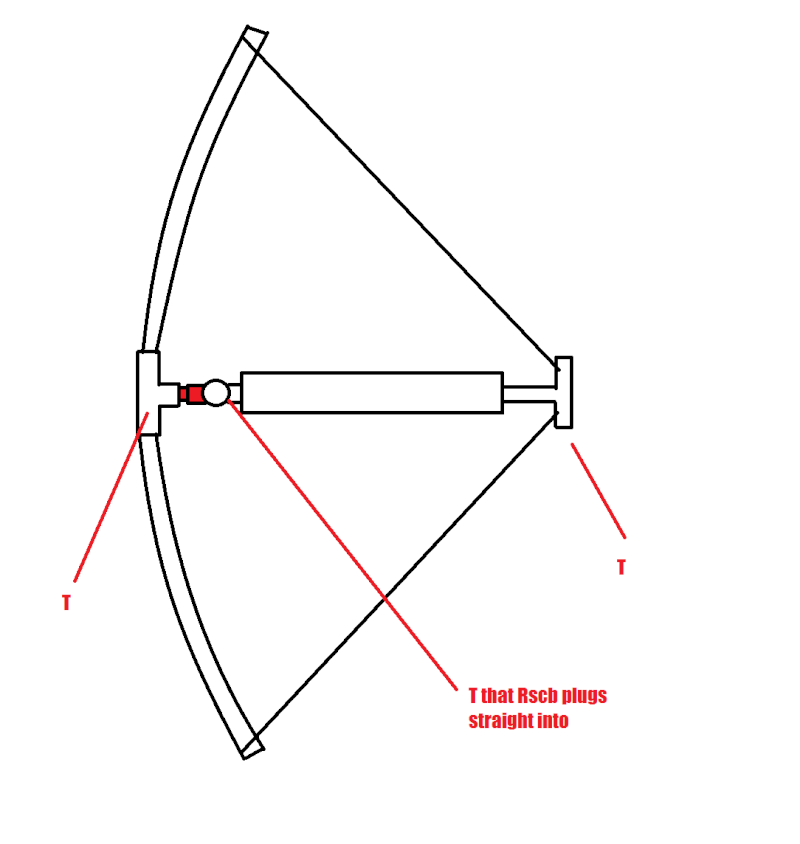 The Red filled area shows where I filled with epoxy putty to stop air flow.
Here are some more pictures: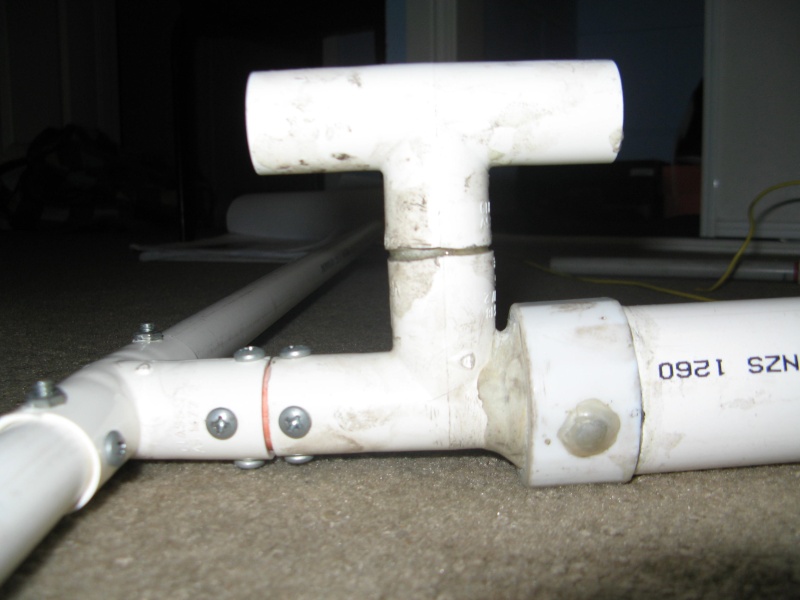 Notice how the Tee leading out of the plunger tube and into the Tee that connects the bow arms, also acts as a the 90 degree elbow for the RSBB. This means the RSCB does not have the dead-space from a coupler, then a full elbow, its simply the dead-space of the elbow, I also inserted a piece of 16 mm into the end of the tee that meets the plunger tube, and the end leading up, to reduce dead-space. I made the piece of 16mm leading up long enough to connect into the top Tee, so that there is no dead-space there either.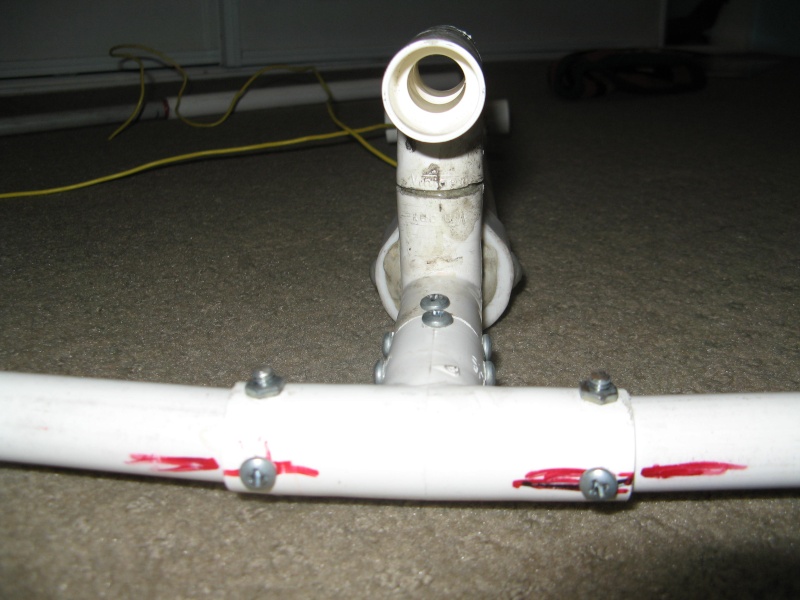 Here is a shot of the 40 mm plunger tube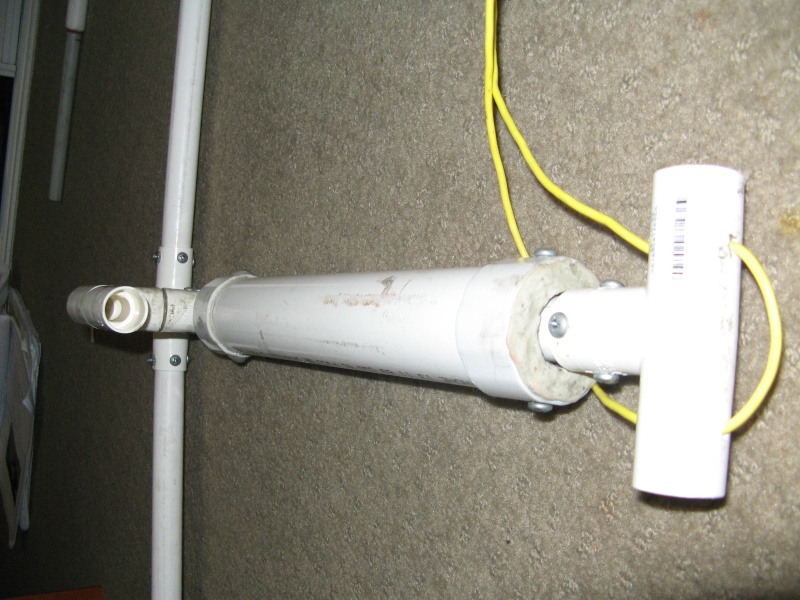 This shot shows down the 40mm plunger tube where the Tee that acts as the elbow for the RSCB sits in the end of the plunger tube.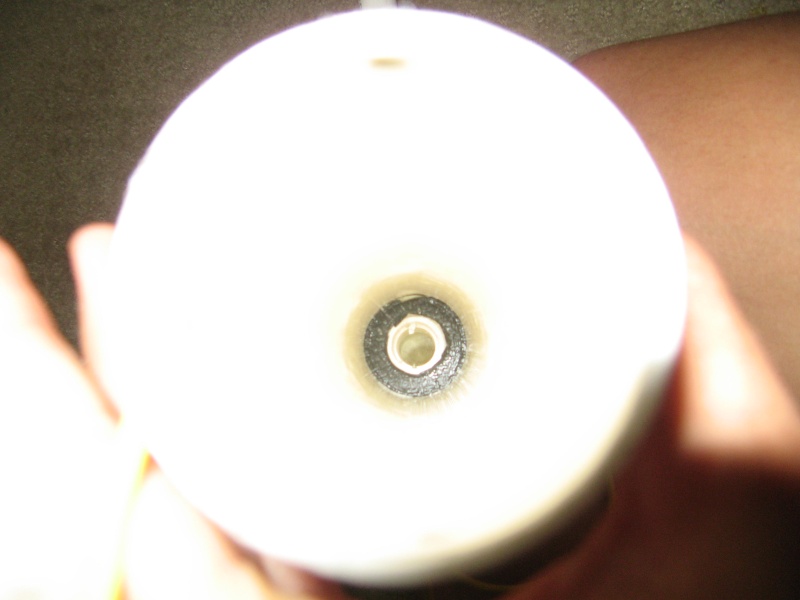 Here are some shots of the plunger rod and head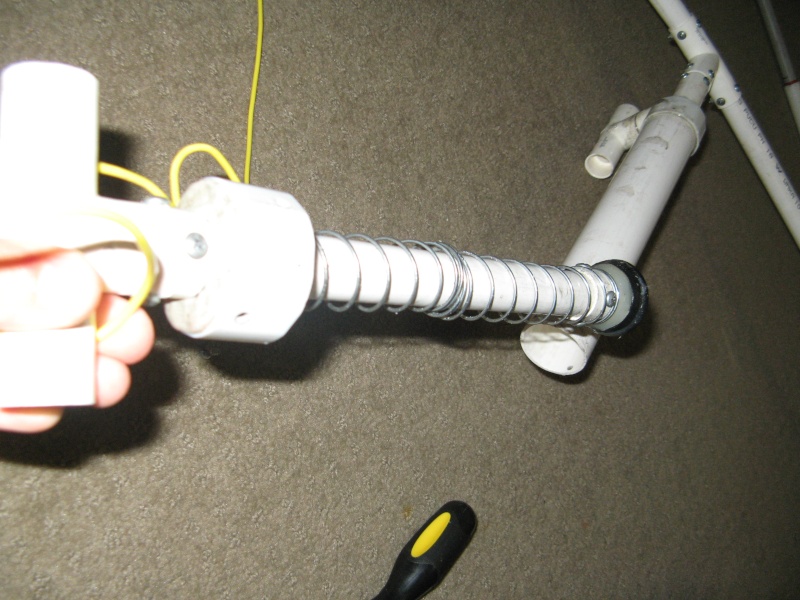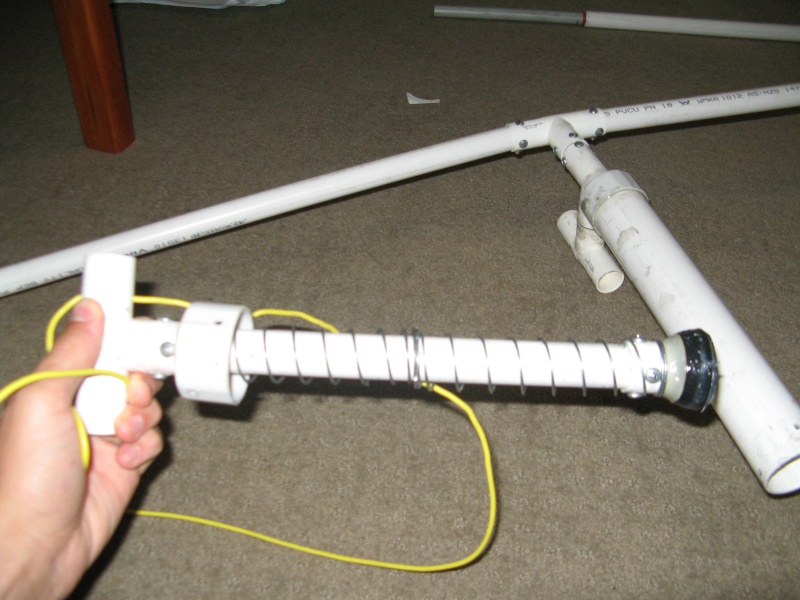 Its basically a piece of 15mm UPVC with a end-cap at one end, with a 32mm bath plug screwed into that, and a Tee at the other end.
And yes, there are to Recon springs on there, though they do close to nothing, I had them sitting around and didn't have anything to put them in, so I threw them on the Bow. They only really made about 5ft difference in ranges, so if I ever decide I need them for another project, ill probably just pull them out. But since I added the springs, I had to add a spring stop, I simply used a 40mm end-cap and drilled a hole in the centre of it big enough for the 15mm UPVC to slide through freely.
For the bow string I used auto electrical wire, this stuff works great because its extremely strong and shouldn't ever snap, and its coated in rubber, so you cant ever cut yourself on it.
Overall I'm really pleased with the result.
Its not the most practical of blasters, but it is extremely fun. The concept with the RSCB was extremely successful and i can shoot of all 6 rounds in very little time. This would make a very fun HVZ weapon, though its probably not practical enough for serious NIC wars.
I find the ranges can be inconsistent based on how you release the priming rod, if you release it quickly and smoothly, the ranges are excellent, however if your not fast enough and you slowly let go, the ranges can be reduced by a fair bit.
When it is raining less I will do a range test and give you the exact figures, but from memory, with a 6 shot clip I got about 85ft on average, and on a good shot where I released the Priming rod quickly, I could get up to 110ft. Though you shouldn't quote me on those ranges, my memory often fails me.
Because there is no catch, the blaster can also be very inaccurate do to recoil, but the rate of fire is great.
This is a very cheap and easy homemade to build and is really fun blaster, it only cost me about $15 to build, though I get considerable discounts on PVC fittings since my mum works at a plumbing store.
I hope you guys like it!
Last edited by asianassassin325 on Thu Mar 15, 2012 1:36 am; edited 1 time in total