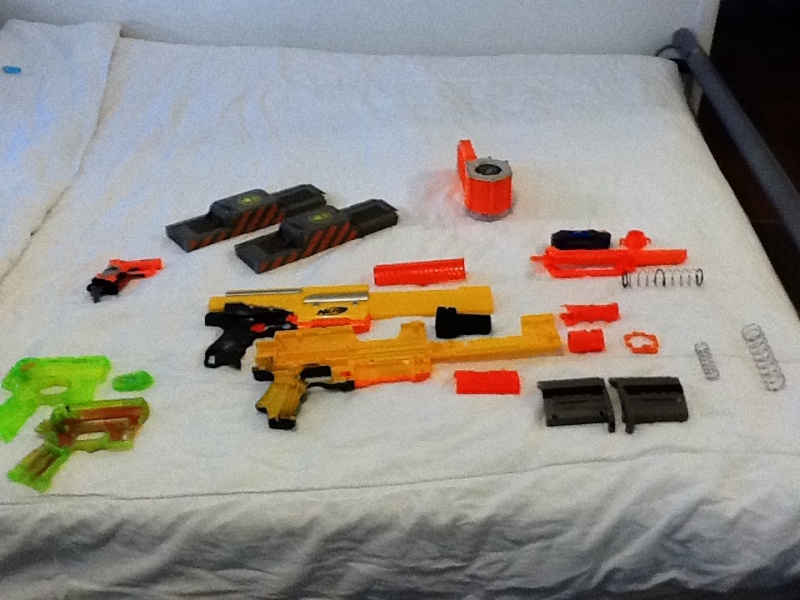 [b]Decided to sell off some bits and pieces, because why not.

Orange Mod Works 6 KG Spring works on Recon's, Longstrike's and Alpha Troopers $7 Still Available!
Orange Mod Works 8 KG spring works on Maverick's and Spectre's - $3 Still Available!
Nerf Jolt removed the AR's and dart post. - $15 Still Available!
Longstrike Internals - Bolt Sled, Breech, Spring and Plunger and spring holder - $8 Still Available!
Minimized Sonic Nitefinder Shell - Minimized to look like a scout. $3 Still Available! - If bought with something else, $2
Alpha Trooper Shell with various parts included $8 Still Available!
2 Firefly Clips WILL SEND WITH 18 GLOWING STREAMLINES $22 Still Available!
1 Alpha Trooper Drum $20 Still Available!

85$ dollars posted for the entire lot above. Will change this once something else sells.


If you need to e-mail me for any reason, tye-96@hotmail.com

Thanks for reading.



Last edited by TylerMaxwell on Thu Apr 05, 2012 8:19 pm; edited 15 times in total