Hi guys,
Another Elite blaster tutorial - this time, the Triad. Looks like a Jolt on steroids... holds 3 shots, and fires each dart individually, but you need to prime in between each shot. The barrel is fixed, and I'm not really sure how the mechanism inside works. Doesn't appear to be easy to get the main part of the blaster shell open, and I wasn't going to mess around too much until I have a spare Triad to play with. It fits quite well in the hand, and is easy to prime. Fairly neat little unit for the price.
Mod's covered -
* Improved plunger head seal
* Spring upgrade
Tools:
• Screwdriver
Materials:
•Black Tactical Elite spring or similar
•Silicone Grease
•Teflon tape
As always, begin by opening up the blaster. The only accessible screws are (4) that hold the grey plate/priming handle to the handle. Remove these, and you should see...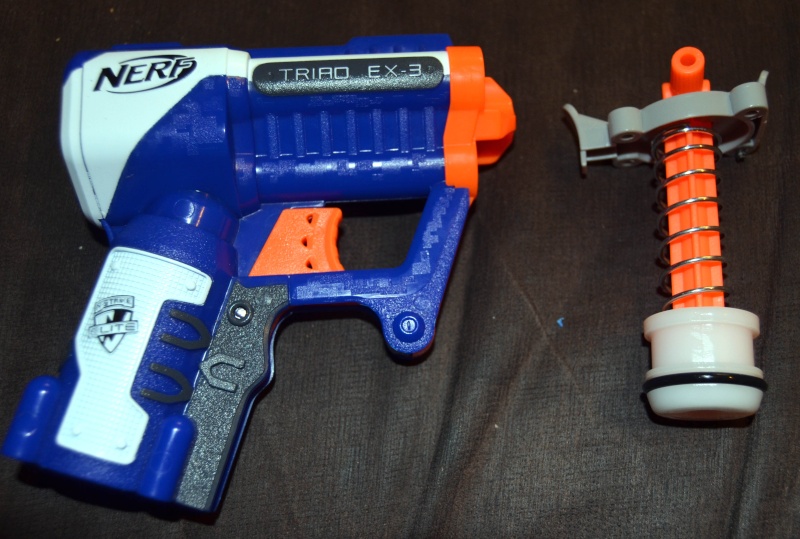 There's a large screw holding the plunger head on, remove this screw, and break down the parts...
BT Elite spring (8kg) on the left, stock Triad spring on the right.
Replace the stock spring with the BT model, and re-assemble the plunger rod. Wrap a couple of layers of teflon tape around the plunger head, re-lube the o-ring, and put the blaster back together.
This will be a little tricky, given the extra spring load. Just take it slowly, and do the screws up in a diagonal pattern, making sure not to strip out the thread.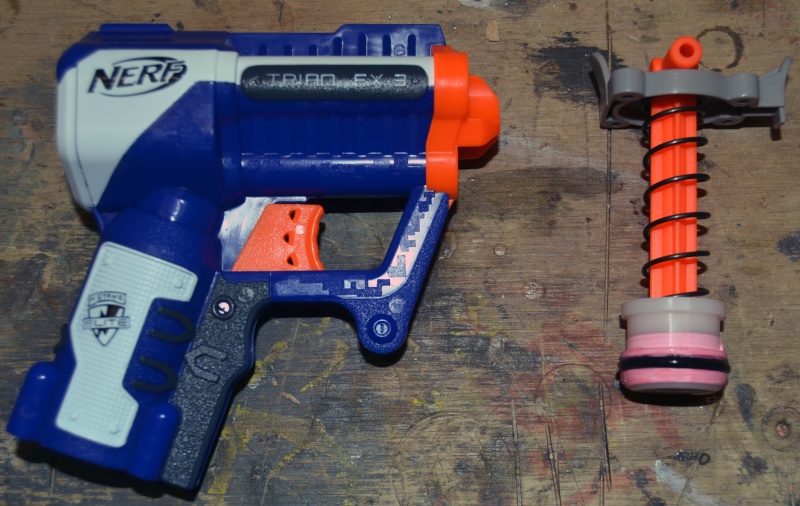 Ranges -
STOCK: medium stinger - 52ft flat avg, 57ft flat maximum.
stock elite - 54ft flat avg, 70ft flat maximum.
MODDED: medium stinger - 69ft flat avg, 84ft flat maximum.
stock elite - 72ft flat avg, 89ft flat maximum.
Cheers,