Okay, so I have grown out of nerf for a long time now, and all the blasters that I own are now impeding on the space in my room, so I am going to sell them, all of them.
I would much rather sell the lot together, just to save assing about, but will sell individually in a pinch.
Note: some of these are in a state of disrepair (mainly the BB longhsot and the airgun)
PRICE: $400 for the lot. (Or nearest offer)
Includes:
1x nitefinder with brass barrel, c386 spring and double O-ring, AR removal
1x brass breech longshot, AR removal, BT spring and shotgun mod (sg mod needs to be fixed)
1x airgun inside a longshot shell, has breech to accept clips.
1x stampede with voltage mod (i think it's 18v?, AR removal
1x alpha trooper, stock as far as i can remember (comes with raider stock), probably AR removal
1x Barricade, I think it's stock.
I think there is also a Maverick in here somewhere, usual mods.
2x dart tag hyperfire, AR removal (1 blue 1 red)
1x that shotgun looking thing (can't remember name) barrel is broken off, beast spring in it, and larger plunger head
+ alot of other shit, icluding 5x 18clip mags, I'm assuming there are a few 6clips in there aswell, and darts galore(both stock and stingers)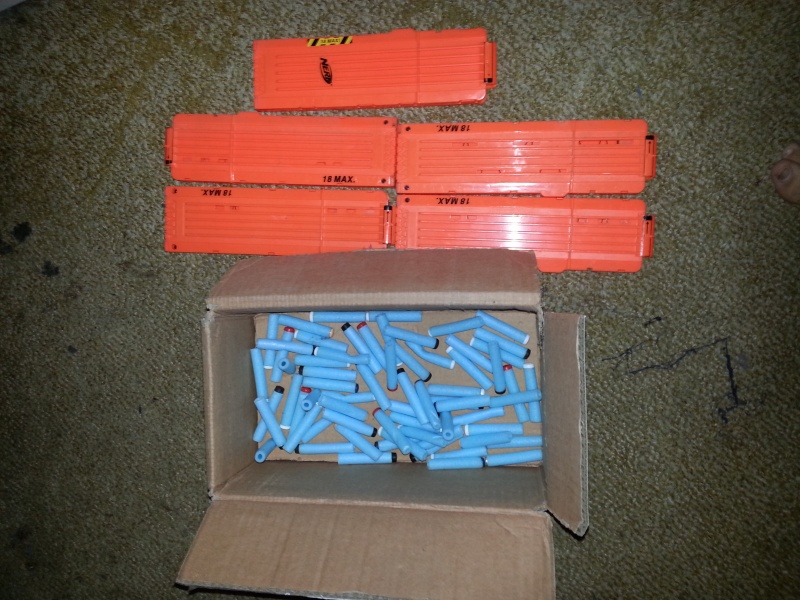 Last edited by Switchblade on Sun Apr 21, 2013 9:09 am; edited 1 time in total