His this is only my second post so if it sucks, tell me so. I was rummaging around in my toy box (Nerf guns, water guns etc.) and i found an old water gun that had a stuffed up trigger, one of those super soaker ones that have a secondary fire that sprays the whole pressure tank out at once. This got me thinking, I wonder what the psi in that tank is, must be kinda high to get water 10 meters. I tried it out by holding a vulcan chain against the nozzle and that got about 30 meters. pretty good for the barrel being only as long as one chain link. This led me to the idea of adding a barrel only problem was, I didn't know where to get it .
Massive fluke was that i found a hobby store near my school that sell's all the brass i would ever need, and my school was having a production which involved garbage, which in turn involved a PVC pipe that was perfect size. anyway i bought my brass and rapped each end in some heavy duty tape
This then fit inside the PVC perfectly
i had to shave away some on the nozzle to fit the pipe but its a tight fit so it doesnt need glue
here is the finished gun.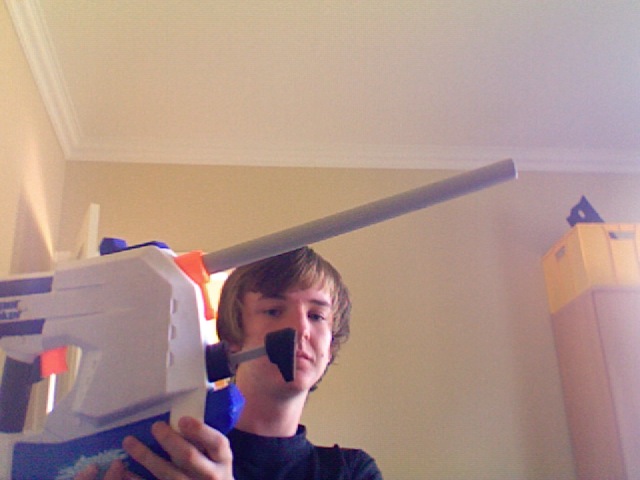 Last edited by WV17 on Wed Oct 07, 2009 12:58 pm; edited 2 times in total (Reason for editing : Fixed the pics)