Hey kiddies,
I just noticed we had a Homemades section, so I thought I'd share a couple easy little things I made a fair few years ago.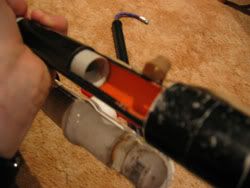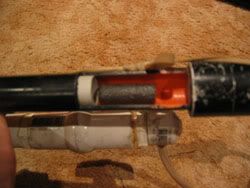 To actuate the breech, you actually pull the whole trigger handle backward, it slides back over the barrel and returns to position via the rubber band. I used 16mm UPVC nested into 20mm UPVC. The breech opening was I believe 25mm Orange UPVC. The trigger is just a garden hose trigger gun. The airtank I think I used either 40mm or 32mm PVC. Be careful if you copy this, not to pressurise it about 50 psi.
I had so much fun with this one, that I made another one, though it is only single shot and the barrel itself is the breech.

As you may guess, I used a slightly smaller sized ammunition than the rest of my stefans, hence the fit into the conduit. It's just slightly thinner than stock dart foam; CDTS would fit in this barrel now.
I don't remember exactly what sort of pressure they were primed to, but I remember nailing a guy in the back of the head at about 50 metres away. It was an incredible shot, really, but it was not difficult to achieve these ranges. (ChaosBlades, that guy was Tom, if you remember him )
The accuracy was uncanny too, probably due to my particular choice in ammunition, The barrels of each are roughly 20" long.
I would like to point out that it was and is a very bad idea to paint any blaster, factory product or homemade, any dark colour, especially black.
Have at.
-Tidge.