G'day my name is josh, I'm a bakery assistant by day and evil genius when I am home. I love Nerf, but hate it when the ranges are small. I don't usually play in wars due to me being in TAS where wars aren't easy to find. I do NOT own a dremel so if you want to have a go at my rough cuts save it, I use a bent hacksaw a pipe cutter a pair of pliers and two screw drivers and a drill to do my mods, so without further ado here is the creature.
The creature has a modified bbumb valve and homemade air tank, there is a 15mm coupler in the front so I can use 5 different barrels, one for original missiles, one for my 2 foot rscb with ball valve to eliminate dead space (if you are careful and a bit slower you wont chop darts) it uses a small brass barrel for stock streamlines and the barrel you see has brass in it which I use for my weighted darts and one to fire hand cannon slugs. questions? pm and if this is a crap post please tell me and I'll try to improve
Front on pic just for fun by the way the random balls are glow in the dark beads, And the scope you see is homemade from $1 kids binoculars from Kmart.
And my next project if I get around to it, Is turning a Jam blaster into a bull pup shotgun, That is after I finish modding 3 other guns first lol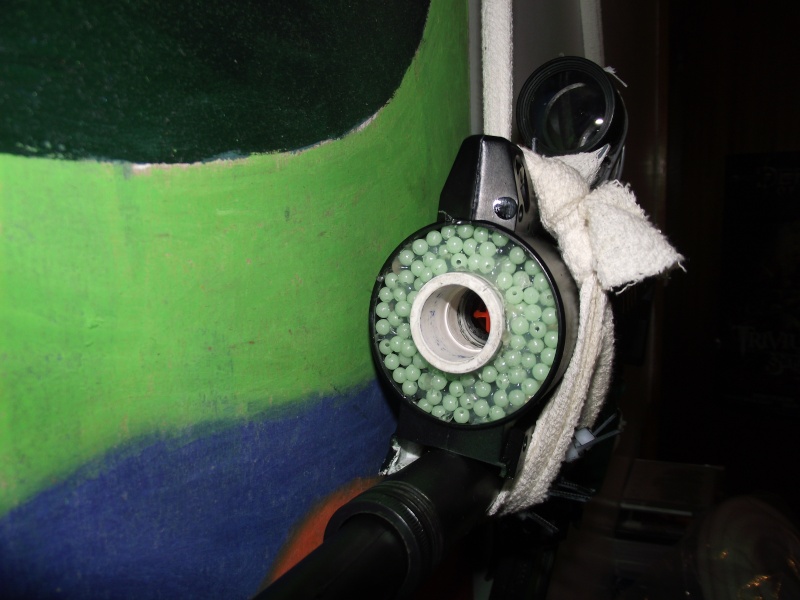 Last edited by oxymoron on Sat Oct 29, 2011 8:22 am; edited 4 times in total (Reason for editing : Fixed picture links)