Disclaimer: there are better powerstock ideas going around, it's just this is noob-proof and very inexpensive and time saving.
It's not too complicated, I would believe just by looking at this photo you would know what I've done. Basically it's two rubber bands taped together over the hole of where the plunger comes out.
Normally there'd be some kind of cover here, but it's gone.
These are the tools you need. Yellow e-tape isn't as sticky (being from the reject shop) but they are more aesthetically pleasing than grey.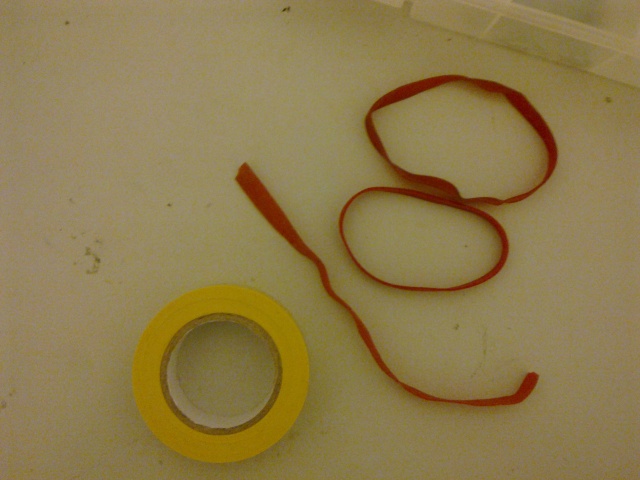 So I put the two rubber bands at an intersection so that it makes an x right about at the middle of the hole. To make sure that they didn't slip out when the plunger was primed, I put more e-tape and linked both rubber bands together. And that sort of explains why there was a broken band in the pic. You could recycle them for this mod. I tried three sets of rubber bands but I found it a bit too hard to prime. I'd imagine it would make it better though, if you can pull it off.
...
EDIT - 23/03/11, one of the bolt screws snapped off, but I don't think it's too big of a deal, but I needed to open it up to remove the loose bit shaking inside all the time, so I decided to readjust and range test this idea of mine
FROM A BELOW POST: An update - I changed the layout of the taping slightly, and added a third rubber band. If you're not going for the looks this could be you. I goes about 3-5 feet further and the velocity of the bullet (I tried blue foam stefans) is also improved.
...
Combined with all my other mods (AR removed, e-tape spring spacer, second o-ring, lubricant), my Alpha Trooper does about 15m flat.
Last edited by 2120 on Tue Mar 22, 2011 11:37 pm; edited 1 time in total