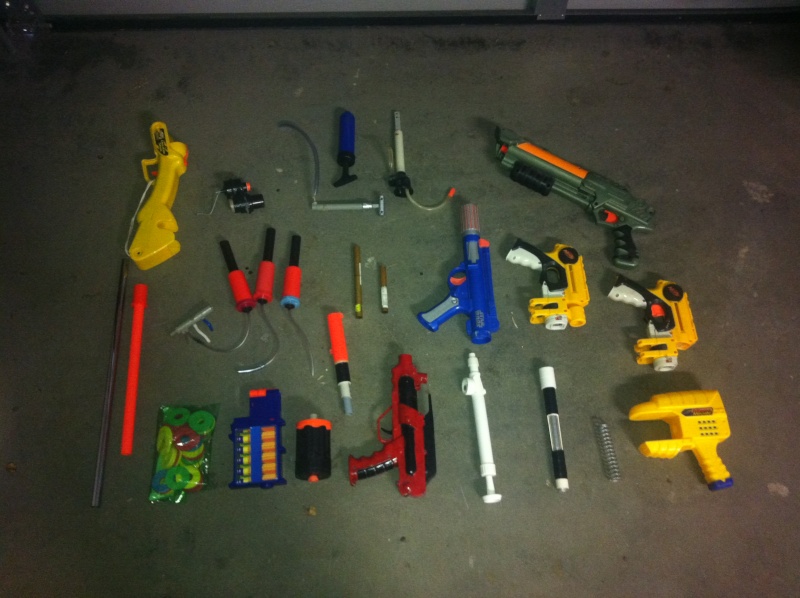 Hey everyone,
As you all clearly know I have been absent from the site for many months... most of my guns are packed away in the room and I decided to clean out the garage today. I sorted though dozens of boxes of useless parts and here is what I have found that may be of use to someone...
This is a 48 hour sale.. after that they all go in the bin!
- Minimized Double Shot with pullback string (not sure if both barrels are working) - $4
- Mega Missile Tank (pump cut off for replacement, coat hanger trigger pin) - $3
- Assorted pumps (ball pump, super soaker pump, SMDTG pump) - $3 for all
- Hand Cannon (recon spring, front minimized, no turret or barrel) - $20
- NF Shells - $2 each
- Star Wars Gun Shell (absolutely perfect for NF rifle)- $4
- Brass Lengths (ask me what they are if interested) - varies
- Big Salvo Tanks (one has a SMDTG trigger attached, unsure if they all hold air) - $5
- LSFG barrel (free with other purchase)
- Foam Disks (free with other purchase)
- RFR clip with 4 shells - $3
- Maverick Turret - $3
- NF Plunger tube with Hep20 barrel - $3
- Wipeout shell with trigger and handle - $3
- Homemade gun air pump (see my writeup in the homemade section) - $2
- C836 spring - $5
- Mega Missle shell - $3
Shipping is from Melbourne, I can do pickup in the city for anyone interested. Take the whole lot for $40. I recommend buying more then one thing to make it worth your while. Thanks guys...
So anyway... how have we been?!
Last edited by Frankie27 on Tue Apr 03, 2012 1:26 pm; edited 3 times in total