Started this due to my experience and what others have said.
What i have seen first hand is taking out the AR, from a Jolt, will not make this blaster fire further.
In fact, you will get less range.
To see what I am talking about, simply get a jolt, hold it up to a bright light so you can kinda see thru it, next get a dart and slowly push it down the barrel, you will notice that it has a firm fit toward the end of the barrel (the yellow line in the pic). As soon as it gets to this spot you will see the AR begin to move.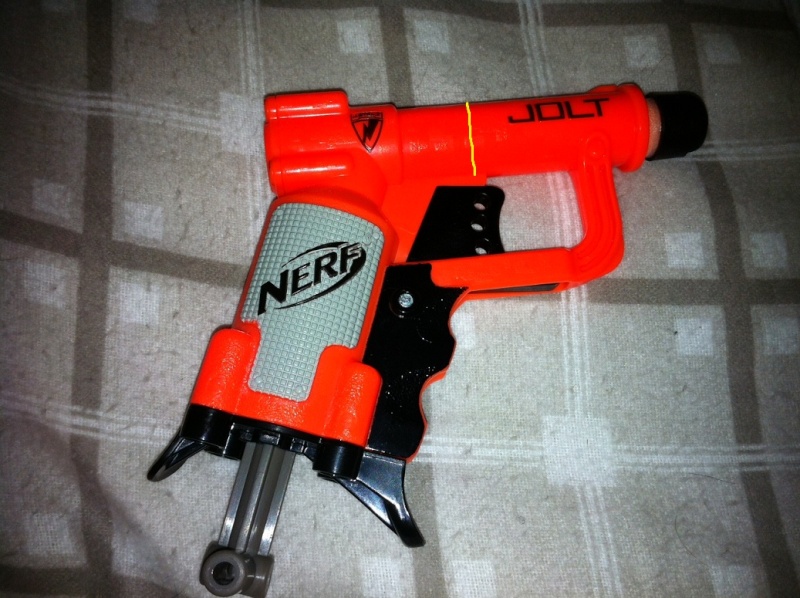 The pegs on this AR are long, the same length as the snug barrel fit, and almost as long as the draw to prime the blaster.
There is only so much air the plunger can move. And the AR lets enough past the get the dart past the snug part of the barrel, without restricting airflow to much.
Why taking the AR out does not improve things:
Dart in, the plunger tube will move at roughly the same speed, from what i can see by eye, with or without the AR.
So it moves the same amount of air at the same rate.
With no AR there is more dead space.
I'm still not 100% sure why the ranges drop off, might just be mine.
Now I am not saying AR's are great, in most cases taking them out will get you better ranges.
I'm saying they are not all bad and on this small scale completely removing it is not the way to go. + it protects you plunger tube.