Hey guys!
TooBz was kind enough in helping me with my procurement of the Clear-X Triple Shot blaster...
Most of you know have seen a clear-x triple shot and the plastic on it is a little frosted, so it looks "ghostly" in a sense.
But now I want a "really clear" Clear-X triple shot.
However, I have come across this pic online, it's not a high quality pic but you'll get my drift: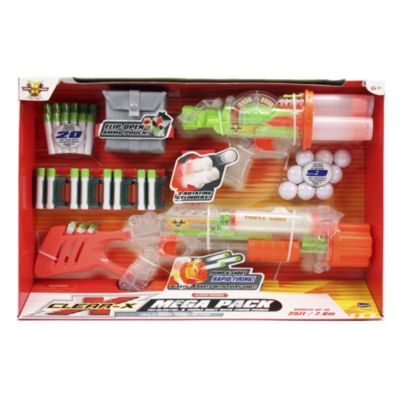 If anyone is able to hook me up with this really "clear" clear-x triple shot, I'd appreciate it! I'm hoping to get a couple of these. Even if the only way to get these really "clear" clear-x triple shot is via this box set, I'd get these too.
--------------------------------------------------------
Next up:
I'm looking to get hold of the turret cover piece of the Lanard Hand Cannon.
Anyone has these cover pieces to spare, drop me PM with a quote please?
I'm trying to obtain more than 1 of these. So yeah!
Thank you!